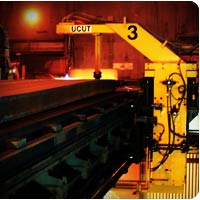 Research and Development
A Cornerstone of Levy Products and Services is Levy's Commitment to Technological Innovation
Levy has a rich history of technological innovation dating back to the 1920s. The company's discoveries in novel "burrless" cutting technologies and experience in pioneering new steel mill facilities sets Levy apart in adding value and serving customers efficiently.
Levy's research centers are staffed with world-class scientists, technologists, and innovators who continually research new ways and products to benefit Levy's own internal operations, to improve Levy's product and service offerings, and to make the company's customers successful.
The company continues to devote substantial resources to remaining at the forefront of technological innovation, design, development, and deployment.